Great project and customer overview
Metropolis uses the product Moment, which is now part of Milient's brand.
When the interior architects at Metropolis arkitektur & design looked for a new project management tool it was important for them to get a system that provided detailed project management, an overview of staffing, and that was integrated with their accounting system. Moment (now Milient) delivered on all of it.
Marianne Westheim is the Administrative Manager at Metropolis. She keeps control of the daily operations and the 35 creative souls who work there. Moment is an important part of her work day:
"Moment is, in a way, the oil in the machinery for me and the employees. Moment ensures that all processes run smoothly. In my hectic everyday life, the system is an important part of getting the gears turning".
Marianne estimates that approximately half of her working time is spent in Moment, where she sets up offers, projects, invoices and manages the resources.
"Moment solves a lot of problems for us when it comes to e.g. staffing, project management, cost control, invoicing and payment reminders. We get a good overview of the project and customer - in regards to hours and estimates," she asserts.
Keeping track of the use of non-billable hours
The interiour architects in Metropolis are like all other consulting companies: They make a living by selling hours. Therefore, it is important to maintain a high invoicing rate, and they keep track of this in Moment:
"The nice thing about Moment is that you get a quick overview of the hours used. It is very easy to look at the figures for project time spent by employees", says Marianne. They have also created a good project structure that keeps track of the hours spent on internal time:
"We have a good structure for the projects, that allows us to easily sort and get an overview. We can see whether a lot of internal time has been spent, and what this internal time has been used for. Among other things, we have a separate project called 'data and IT', so we can see if a lot of time is spent on data problems, and if we should take any action there. We also have a project called 'sales and marketing' - so we can keep track of the hours we spend on it, and make sure that money actually comes out of it".
This structure also gives them good empirical data, Marianne explains:
"When we work on a specific competition, we create a separate internal project where we track hours. This makes us able to learn, and get empirical data on how many hours we spend on a competition. It is very useful".
The accounting system is integrated in Moment
In Moment, Marianne has good control over the entire company - including the finances. All invoicing and payment reminders are done in Moment.
"It is a huge advantage that Moment is integrated with our financial system. I do the 'everyday economy' mainly in Moment, and our accountant works in Tripletex. It works great for us".
Marianne says that they use Momentt a lot, but that they are constantly trying to see how they can use Moment even more widely.
"We use many of the functions in Moment, and keep control over projects and customers. But there is plenty more functionality in Moment that haven't taken advantage of yet. For example, we want to use the tag system even more, to keep track of the "jungle" of suppliers. Then we can quickly find, for example, a good carpet supplier and quickly benefit from each other's experiences. Such things are very smart, and save time in a hectic everyday life".
Looking at the occupancy rate for the resources far into the future
Marianne says that they use the resource planner in Moment a lot. The resources are entered into a project plan, so that they can see the whole company at a glance:
"In Metropolis, we are divided into five teams. With the good tag system we have created in Moment, we can see all team members connected to each team leader, and keep track of their planned work far into the future. We can see if we should increase sales in the future, and what times we are busy".
Responsive support department
Marianne also appreciates getting help from customer support. Getting to know the system properly takes some time, but now it's in Marianne's fingers: "For me, the system is clear, I know where to find things. When I have questions about something, I call support".
She says that she likes that Moment is responsive to suggestions for improvements. "It's nice to know that the issues I report are taken into account. It is important to me to be heard. Moment is a party that is responsive to its customers".
At the very end, she sums up:
"Moment is a very useful tool for me in my everyday life, I am very satisfied," concludes Marianne.
The offer module is absolutely fantastic
As interior architects, Metropolis works with projects of a smaller size than what a "regular" architect typically does:
"For us, a project usually starts with a few hours in a sketch project, and then we continue to work from phase to phase as the project develops," says Marianne.
The offer module in Moment makes it easy for her to develop the offer during the project:
"The budgets that interior architects work on are often smaller than architects. As we work our way into the projects, we prepare ongoing offers for each phase. The offer module in Moment gives us good control and an overview throughout. We don't need to keep "loose" sheets and documents, everything is gathered in one place, and that's absolutely fantastic, I think".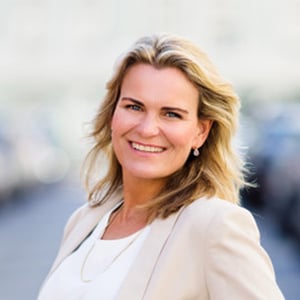 "Moment solves a lot of problems for us when it comes to e.g. staffing, project management, cost control, invoicing and payment reminders."
Marianne A. Westheim
Administrative Manager | Metropolis
About Metropolis Arkitektur og Design
Metropolis is one of Norway's leading interior design offices. They were established in 2000, by Hanne C. Arvik and Kari Ihle. Since then, they have had steady and good growth, and today they are 35 creative and committed employees.
Metropolis operates within the entire breadth of the interior design industry, from small and large homes, business projects of various sizes, public buildings, hotels, and restaurants.

Would you like to know more about Milient?
Get full control over your projects and resources with a complete project management tool. Project management, time registration, resource management and invoicing - all in one system. book a meeting today!
Read what other users think about Milient