Karl Knudsen uses the product Moment, which is now part of Milient's brand.
Karl Knudsen previously had a cumbersome solution for projects, hours, and invoicing "It did not seem that the supplier was interested in improving and further developing the system, we stood still", Sissel tells us.
They realized over a long period of time that the solution was outdated and that something had to be changed. The company explored several solutions but felt that several of them had integrated modules that they did not need.
Fortunately, they came in contact with someone who had recently used Moment and got to hear their experiences. It dawned on them that Moment could be the right solution. We presented the solution to Sissel and her colleagues in the autumn of 2018.
"After going a few rounds, the choice fell on you - and we have not regretted it!"
The security of knowing that others in the same industry, with the same needs and used Moment, was crucial to the choice. "It had a lot to say that we talked to someone in the same industry, with the same needs, and the feedback from them was very good." Accessibility and good support also helped to make the choice easier.
A new and simpler everyday life
Projects, customers, invoicing, and finances - everything has become easier in Moment, Sissel tells us.
"It is very clear and straightforward, just search for the customer and then all information is automatically retrieved from the Brønnøysund registers."
Since Moment of course supports electronic invoicing, no invoice is sent by post either. It or most goes as EHF, but if the customer is not rigged to receive this, the invoice is sent easily on e-mail.
The transition itself to Sissel describes as simple, "It went very, very well. We chose to export most of it from the old system, and it exceeded all expectations. " The others at Karl Knudsen have also been pleased with the change, and think it is easy to keep hours and get an overview of holidays and absences.
They have also discovered a sea of ​​possibilities in Moment, including Project Plan for resource planning, and Tags for categorization of reference projects and timekeeping.
"Ease of use is the most important thing, and that the project management tool is adapted to our needs."
Easy reporting in uncertain times
Every month, Sissel updates herself on the invoicing rate, which is clearly stated in Moment. This helps her at all times to have an overview of the profitability of the projects.
"When the pandemic came, we became more focused on timekeeping." It was also a question of customers' ability to pay, and how liquidity could be affected.
However, Moment has made it easier to keep track of finance. "We have never had so low outstanding as when we went for vacation during the pandemic."
Sissel also thinks it is very easy to take out reports for reporting via Altinn, "We report quarterly to Statistics Norway both in terms of self-reported absence and invoiced hours. With a few keystrokes, I have an overview of both hours of absence and invoiced sales.
Good support is very important, Sissel believes, and it has not been a problem in Moment. "You are very good at support, and it is ingenious that you can give feedback on the screen you are in. Then it will be much easier for support to understand exactly what we are looking for."
"Since Karl Knudsen AS started using Moment almost two years ago, there has been a continuous development of the system, which we think promises very well for the future as well!"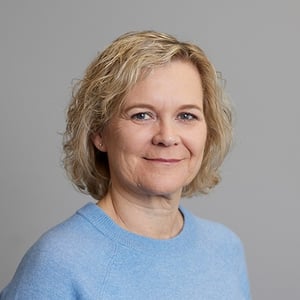 "It was important that we talked to someone in the same industry, with the same needs, and the feedback from them was very good."
The project management tool is adapted to our needs.
Sissel E. Eriksen
Office manager | Karl Knudsen AS
At Sluppen in Trondheim, we find Karl Knudsen AS - a consulting engineering company with almost 60 years of experience in the industry.
Their more than 20 employees work with project management and engineering, mainly for public customers and private industry such as Trondheim Municipality, KLP, NorgesGruppen, and Studentsamskipnaden in Trondheim.
High competence, commitment, and innovation are fundamental values ​​for the company, and having a good age spread among the employees is both important and useful.
"We are focusing on gradual growth and have had it over time", says Sissel E. Eriksen, office manager and responsible for finance and administration.
HUS has a goal of becoming the leading office in Central Norway and is well on its way. With today's pandemic, they are excited about the macro picture in the world.
"The world is changing big, and we are excited about the consequences it will have for our industry. We have to maneuver in that landscape and are very conscious of planning for it."

Get started Milient!
Take control of your projects and resources with a complete operational tool. Project management, time management, resource planning and invoicing, all in one system.
Read what other users think about Milient