App for time registration (and all the other parts of your projects)
Use Milient's mobile app for project management to keep track of your projects from anywhere.
With our mobile app for project management, you can:
Register time on your projects
Create project expenses: Snap a picture of the receipt and upload it
Update yourself on customers, projects and tasks
Use check-lists
Register non-conformities
Download the app, log in with your Moment user and get started!
Registering time in the app is super easy!
Just see for yourself 👆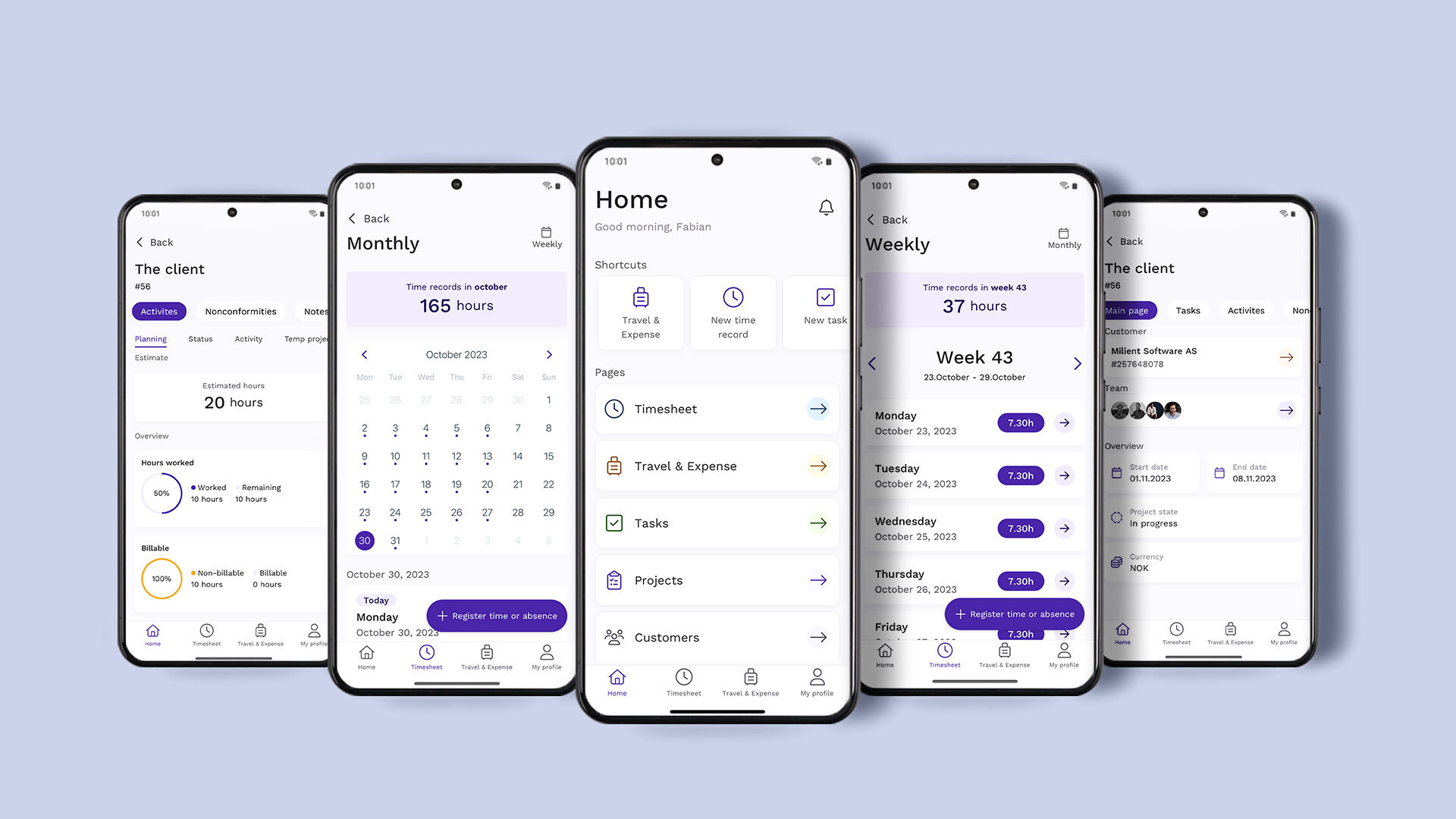 More of the features in the project app:
Get an overview of the time spent by all the project participants: See time spent (total, monthly and weekly) for all the participants in a project

Switch between different companies: If you have access to several companies in your Moment account, you can easily switch between them

Contact the customer directly from the app: The contacts in your projects are available in the app, and you can call or send emails directly from the app

Weekly display of hours: See your hours in a weekly view to get a complete overview
Frequently asked questions about Milient's mobile app
What can I use Milient's mobile app for?

The Milients mobile app is a tool that simplifies working on your projects while on the go. With this app, you can easily register your time, create tasks, log non-conformities, make travel expenses, and stay updated on the progress of your projects.
How can we use the mobile app on my projects?

To use Milient's mobile app, you need a user account in Milient. Simply log in with your username and password, and you'll find all your projects right within the app. With this handy tool, you can effortlessly register your project time from anywhere, and access customer and project information on the go. Additionally, you have the convenience of uploading receipts for travel expenses.
Is Milient suitable for larger teams?

Yes! That's one of the major advantages of Milient: Our project system is scalable. As your business grows and the complexity of your projects increases, you'll derive even greater benefits from using Milient.

Gain full control over every aspect of your project - that's Milient in a nutshell.
Do I have to have a user in Moment to use the mobile app?

Yes. In order to access the mobile app, you must already have a user in Moment. Get in touch with us to learn more about the system, pricing, and how to get started.
Can I integrate Milient with other tools and software?

Yes, you can. Milient offers excellent integrations with various systems, ensuring that your everyday life becomes as seamless as possible.
How does Milient ensure the security and privacy of our data?
Will Milient's mobile app work on my device?

Yes, Milient's mobile app is available on both Apple and Android devices. Simply search for "Moment by Milient" where you typically download apps.
How often is Milient's mobile app updated?

We update the app regularly with new features, improvements and bug fixes. Keep your app updated to the latest version to enjoy all the benefits.
How do I get support if I encounter problems or have questions?

Milients' amazing support department is available to assist you whenever you have questions or need assistance. You can reach out to them through chat, email, or phone.
Is there a trial version available?

No, in order to get started with the mobile app, you need to have a user in Milients' Moment system. However, you can always book a non-binding meeting with us, where we will show you how the system works.
Would you like to hear more about how you can get better flow in your projects? Book a chat with our experts!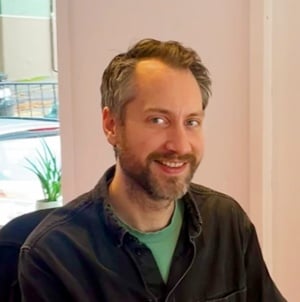 "Moment makes it easier for our employees to register their hours correctly and at the right time."
The architects at KOHT Arkitekter have gained better control over timekeeping in the projects after they got Moment (a system from Milient).
Christopher Wilkins
CEO and architect | KOHT Arkitekter
Are you constantly juggling multiple projects, hours, and resources within your company? If so, you've likely experienced the frustration of not having complete control. With Milient, you can collect all the features in just one system.
Project management
Tailor Milient to fit your projects exactly. You get full control and an overview with all information in one place.
Resource planning
Which consultants are available for assignments, and do you have the right expertise in the right place? With resource planning, you get a full capacity overview.
Quality assurance
Make quality assurance a natural part of the work with non-conformity management and checklists closely integrated into the projects.
Timekeeping
Flexible timekeeping adapted to the activities and projects you work in. You get a full overview of time use – with the automatic calculation of the overtime balance, of course.
Travel & Expenses
Have you had expenses on your trips for work? All employees can easily register travel expenses in Milient. Take pictures with your mobile phone and upload them to your inbox.
Invoicing
Timekeeping is easily transferred to invoicing. You always see how much you have invoiced and what remains in your budgets.
Task management
With detailed projects, you need good tools to handle the tasks. The task board in Milient makes the job a breeze.
Offers
Ready-made templates allow you to efficiently create offers. Once the customer has accepted, you can create the project with a few keystrokes.
Holidays and absences
Milient helps you keep track of all employees' holidays and absences. Each employee can easily enter their absences, which makes it easier to plan for future capacity.
Spend less time on administration and free up more time for everything else.