The upcoming 2024 trends in the UK Architect's market
What does the future hold for architects and how does the economic development in the UK affect the architecture industry? One thing is certain, in an ever-evolving landscape, it is important to adapt to the changing expectations and needs in the market.
Milient had the honour of sponsoring the RIBA Economic Panel in August. In this blog post, we will explore the valuable insights gained from this event and delve into the key takeaways.
Psst! Further down in the article, we share the key elements for architects who want to succeed in the challenging market.
Modest growth in the architecture sector for 2024 and 2025
The outlook presented by RIBA for the architecture industry is rather somber. While there is hope for gradual improvement in the coming years, it is evident that these gains may not fully compensate for the ground lost over the past three challenging years.
Following the pandemic, the industry experienced a significant decline. The recovery has been slow, and the sector has been grappling with economic obstacles such as soaring building costs, surges in energy expenses, and shortages of labour and materials. Additionally, the widespread inflation in the British economy has cast a shadow over most industries.
Although there has been a resurgence in revenue among UK architects, it is unlikely that the revenue of chartered practices will surpass its pre-pandemic peak. According to RIBA, the Bank of England is predicting a two-year recession, with the UK economy not expected to experience growth until late 2024 or early 2025.


Stability in a difficult business climate
According to the RIBA benchmarking report, the financial progress in the architecture industry may be slow, with revenue only increasing by 1 percent and profits remaining flat. However, RIBA acknowledges that stability, although considered "boring," is a remarkable achievement in today's challenging business climate.
The more optimistic voices place their emphasis on the ability of UK architects to diversify and successfully adjust to changing market demands. This adaptability brings a sense of optimism for the continuous growth of the architecture sector.
Workload Expectations among UK architecture firms
When we consider UK architects' expectations for workload growth, insights from the RIBA survey shed light on an interesting contrast. The survey revealed that a majority of architectural firms do not anticipate significant growth, with smaller practices expressing a heightened sense of pessimism about future workloads. In contrast, larger practices remain slightly more optimistic. It is important to note that these larger practices constitute a substantial portion of the architectural landscape in the UK.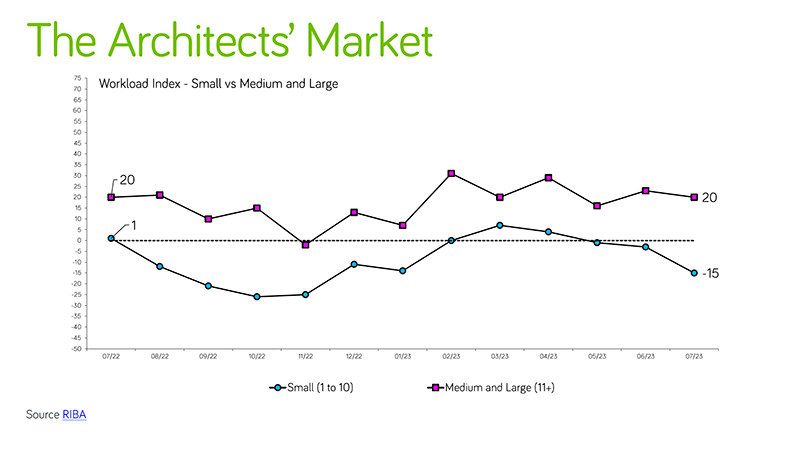 Keys to Success in Shifting Tides
So, what are the essential elements for architects aiming to thrive in an ever-evolving market? Let us explore three vital factors:
1. Certifications and Standards:
In today's architectural landscape, certifications and standards are paramount. Clients place tremendous importance on an architecture firm's commitment to certain standards. Some clients explicitly demand such certifications, while others increasingly view them as a critical factor when selecting an architect. Therefore, ensuring that your firm possesses these credentials can be a pivotal step in securing projects and client trust.
2. Adapting to Required Skill Sets:
Sustainability has transformed from a peripheral consideration to a central focal point in architecture projects. Clients now actively seek out architects who possess expertise in sustainability and its benefits. To thrive in this evolving industry, architects must equip themselves with the knowledge and language of sustainability, enabling them to effectively communicate its advantages to potential clients.
By embracing this adaptability in skill sets, architecture firms position themselves for success, remaining aligned with the shifting demands of the industry.
3. The Holistic Approach:
Lastly, it's essential for architects to embrace a holistic perspective that accounts for the profound impact of construction on communities and the environment. Having this approach can help architects craft designs that resonate deeply with the values and aspirations of society at large.
Conclusion
In conclusion, the UK architectural landscape is undergoing significant shifts, and success hinges on adapting to new requirements for skills, embracing standards, and fostering sustainability. By adhering to these principles, architects can not only navigate these evolving tides but also lead the way in shaping a better future for our built environment.