Blog
Launch of Moment Analytics
Tuesday 20 September was a big day, with the launch of Moment Analytics: A powerful Business Intelligence tool that takes your data from Moment and crunches it into valuable business insights.
Many people have been looking forward to this launch, which is why we invited to a breakfast seminar to show off the analysis tool. Here are the highlights from the launch:
Become a data-driven organization overnight
The developing team behind Moment Analytics has been looking forward to showing it off to the rest of the world.
The breakfast seminar was kicked off with the story about how Moment Analytics has been developed, and the technology behind it. And then it was time for the part everyone had been looking forward to: We dived into the tool to see what numbers can be obtained and what questions the tool can give you answers to.
Those present were shown how Moment Analytics takes your data from Moment and crunches it into valuable information that you can use to make data-driven decisions. Joachim did a demo of the solution to show off the benefits:
The key numbers are ready for use the second you log in
The design is user-friendly
You can drill down into the numbers to find out what is working well in the business, and where you should make changes
Did you not attend the breakfast meeting, but would like to see a live demonstration of Moment Analytics? We are happy to show you 1-1. Book a demo in the calendar here
Positive feedback from the pilot customers
During the development of Moment Analytics, we brought on three pilot customers to test the solution. They have provided valuable feedback along the way, allowing us to adapt the tool to be even more useful.
In the breakfast seminar, we showed an interview with Aase Prosjekt, an engineer company that was one of the pilot customers. Manager Sten Solseth talked about their experiences with Moment Analytics.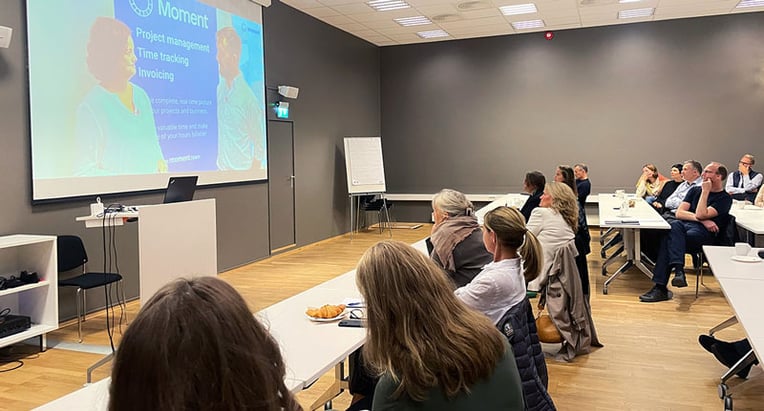 A ready-made BI tool with your data
In today's competitive situation, there is increasing pressure on businesses to use actual data to justify the decisions they make. But it requires large resources to create a Business Intelligence tool yourself. Fortunately, we at Moment have done the work for you.
At the breakfast meeting, we were shown several examples of how Moment Analytics can provide decision support in everyday life:
Are all lessons taken in the projects and in each department?
Have we invoiced all customers?
How is the capacity, do we need to employ more people in the company?
Does the project manager have to reduce the weekly time spent on their project?
Interested? Schedule a demo
If you are curious about the analysis tool and want to get started, you can start by booking a demo.
Have you decided to you want to get started with Analytics? Order here, and you'll be up and running within 1-2 working days. All your data from Moment has been entered and crunched when you log in - this is ensured by the powerful analytics platform. You can also contact us if you have specific questions about the solution, we would be happy to have a chat to hear your thoughts.